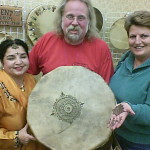 Back for its' second year, the Holistic Healing Expo will be this Sunday, May 3, 2009 at the beautiful Holiday Inn Express, 9175 W. Stockton Blvd, in Elk Grove, CA (off HWY 99 South and Laguna Blvd. exit – next to Old Navy).
For a FREE ADMISSION PASS, go to: www.holistichealingexpo.com and register for the newsletter on the lower left hand page. Once we receive your confirmation, we will send you our a free pass to visit on us! Make sure to print off many for friends and co-workers, and send them to everyone you know. The more of you who visit, the merrier!
Soothe the Body…Heal the Heart…Nurture the Soul at Sacramento's newest Spiritual Marketplace and Holistic Healing Expo!

~~~~~~~~~~~~~~~~~~~~~~~~~~~~~~~~~~~~~~~~~~~~~~~~~~~~~~