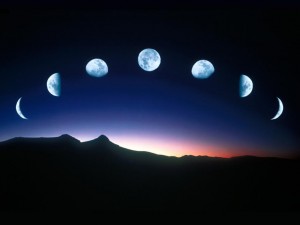 The Full Moon occurs on Sunday, February 28, 2010 at 11:38 am E.S.T. This Moon, in the sign of Virgo, exudes the energy of a "Mutable" Earth sign. It is protective, emotional and materialistic. Any actions taken for new endeavors will be overly optimistic and too expensive right now. Do not allow yourself to be drawn into agreements that you are not given time to think them over and reconsider. You might find that you are being promised more than what can be delivered.
The Full Moon time is perfect for Reversing and Banishing candle spell rituals to rid yourself of negative people, nosy neighbors, bad juju girlfriends, and bad habits, jealousies and envies that you may have surrounding you or that have 'latched onto' you. Burning a Double Reverse Black on Red candle like the one pictured below, will help 'send back' or reverse situations.
It is also a time to retreat and rest! We never get enough time for contemplation and solitude to ponder the reasons things occur or event unfold, and with technological advances in communication devices, being hard to reach is getting more and more somewhat hard to do anymore! It IS OK to turn off the phone, computer and even not answer the phone so that you can clear your mind of all the 'noise' and listen to your intuitions and feelings when you sit and contemplate.
Remember during this time to take plenty of Epsom Salts baths during this time to shake off negativity. You may add a handful of crushed eucalyptus leaves to the bath water for added release of negative vibes. You may also want to add a bit of Reversible Anointing Oil to your bath to soak in or apply to the bottoms of your feet after you get out of the tub. You can order this oil as well as Reversible Bath Salts at www.lucky13clover.com
Order a Reversible Candle to be burned for you by clicking the button below
The next New Moon occurs on March 15, 2010.