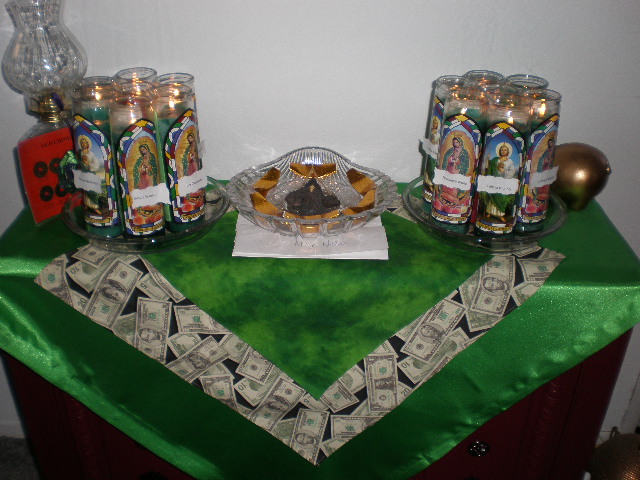 It it time for our second 2010 Prosperity Experiment beginning with the New Moon on Monday, August 9, 2010.
The Prosperity Experiment is a one month long experience where I burn candles for your financial success, send you daily inspirations and ideas and a gift for you to work with on a daily basis to raise your "money drawing magnet" contained within your Being.
Read here about the Prosperity Experiment: Articles about our past Prosperity Experiments
We have had amazing successes for many clients! Here is what one regular (read: active) participant says:
I participated in Jacqueline's Prosperity Experiment during summer 2009. I had been having a difficult time selling my home, especially with the bad housing market. It was unbelievable that, during the 3rd week of the experiment, the house sold after having been on the market 7 months. A few months later, I applied for a job that I really wanted. I ordered the Triple Strength Candle Service. It helped me focus, gain strength, confidence, and clarity. I got the job! Jacqueline sends much needed positive energy your way during difficult and challenging times like this. She's fantastic!!" – Terry
The Prosperity experiment always begins on the first day of a New Moon, reputed to be most powerful for bringing in all forms of prosperity -cash, gifts, loans and such. Each day, I pray over your candles in the early morning and again at night. With each new candle altar that is set up for you and others (see example above) I send you a photo and commentary on last candle burned for you. Once a week, on Wednesdays I send a message out that we are all to gather in silent prayer for 15 minutes for one anohter, as we are in support of one another. I have even had other participants contact me for e-mails addresses of others who might be in need of employment. We are a close knit group.
How can you join?
Just send in your order for participation by clicking the order button below. Cost to participate in the Prosperity Experiment is $35.00. This covers 6 – 7-day "novena" glass candles (lit once every 5 days), your Daily Inspirational e-mail from me, and  a gift from me for you to use on your money altar or money drawing candles at home. Once your order has been received, I will then contact you with specifics and once Monday, August 9th arrives, you will begin your 30 day journey with me to abundance and prosperity!
We are ready to begin our Prosperity Experiment. Please join us for our New Year 2011 Prosperity Experiment in January 2011!