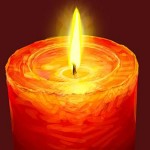 hi jacqueline! just wanted 2 show you a pic of this trabajo im doing.as i told you b4 its dedicated 2 ochun. i light a yellow candle put it on top of the jar and tie a yellow n pink ribbon around the cap of the jar then pray ochun to bring my boyfriend back 2 me. i did it for 25 consecutive days. he did come back but we argued, faught and he left once again.now hes gone again n i havent heard from him in a few days. so now im doing the 4 caminos which would b 3 more sets. this would keep him from leaving. so now i tied the ribbon on the opposite side. when im done with the three sets its going to look like a cross.
rt now im on about my seventh day. now what freaked me out was that after i took an oshun bath i started prayin 2 her infront of the candle. the flame was extremly high then it parted in2 2 separarte wicks with 2 high flames. as they were burning the flames became so small then the main wick turned off. after the 2nd flame turned off i turned the candle on again.also if u look closely at the pics u can see specks in the mirror which is actually candle wax splattered from jus seven days of burning them.
jacqueline please tell me what u think… i know its not good.. i feel theres a negative force thats tearing my boyfreind and i apart. i dont believe that oshun is against bringing us back 2gether. the candles i been burning have been burning faster than usual n it usually leaves a wax residue.i just think that some1 else might b doing something against my boyfriend n i. its really scary 2 actually see a flame jus shut off with nothin triggerin it 2. do u have any specific candles 4 my case? any recommendations at all?
~~~~~~~~~~~~~~~~~~~~~~~~~~~~~~~~~~~~~~~~~~~~~~~
Dear Readers,
I wanted to show you an example of a candle spell diagnosis that I will not do because of the dreaded texting language that is evident here.
Please note, I try to be technology savvy, but I cannot take the time to translate this letter into a language that is understandable by me. While I can understand a few spelling and typing errors, please note that "2″ in the place of "to", "two" or "too" can be misconstrued, but other cutesie words like, b4, u, n, jus and some1 will not lessen your typing time inthe long run AND will not be anwered by me.
The only suggestion that I can give this reader is to go back to the ORIGINAL person she spoke to to get the original spell and ask them for the divination.
Jacqueline