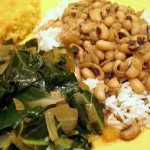 It's that time again – collard greens, cornbread and black eyed peas for Good Luck, Prosperity and Money in 2011. Time to cook these 'treasures' on New Year's Day and serve them to all.
Read more about the Southern tradition of "folding green" collards, "good luck" cow peas and "gold" golden cornbread on the article I wrote last year for 2010 by clicking here:
"New Year's Traditions for Luck and Prosperity"
Have a Happy, Prosperous and Joyous New Year 2011 from Free Candle Spells!